HEDP Na4 is also called HEDP Tetrasodium Salt. It is the tetrasodium salt of HEDP acid. Shandong IRO Water Treatment Co., Ltd mainly supplies two states (liquid & solid) products of HEDP Na4. For more details, please scroll down the mouse.
CAS No. 3794-83-0
Molecular Formula: C2H8O7P2
Molecular Weight: 293.96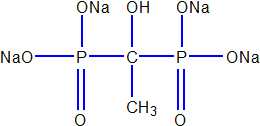 Hydroxyethylidene Bisphosphonic Acid Tetrasodium Salt, IR-HEDP Na4, HEDP 4Na, Tetra sodium of 1-Hydroxyethylidene-1 1-Diphosphonic Acid
HEDP Na4, HEDP Tetrasodium Salt
HEDP Na4 is an organic phosphonic acid salt. This product is a sodium salt of excellent performance in inhibiting the formation of calcium carbonate and calcium sulphate. It is also an excellent chelating agent. HEDP Na4 can form the stable complex with Fe, Cu and Zn ions.
The solid HEDP Na4 is a white powder. It is soluble in water. This HEDP tetrasodium salt easily deliquescence. So it is suitable for use in winter and freezing districts. HEDP Na4 can dissolve the oxides on the metal surface. It has good scale and corrosion inhibition effect under 250℃.
This tetrasodium of HEDP is used as a stabilizer in cosmetic-dye industry. It also prevents swelling problems of the packages. HEDP Na4 provides chlorine resistance in swimming pools and removes stains from the centre (usage level 1 – 15 ppm active substance).
Item
Index
Appearance
colourless to yellowish transparent liquid
white powder
Active content (HEDP) %
20.3 – 21.7
≥ 56.0
Active content (HEDP Na4) %
29.0 – 31.0
≥ 79.9
Phosphoric acid (as PO43- ) %
18.4 – 20.4
≥ 52.0
Chloride (as Cl–) ppm
≤100.0
≤50.0
pH (1% solution)
10.0 – 12.0
11.0 – 12.0
Density (20℃)g/cm3
1.26 – 1.36
—
Fe,mg/L
≤ 20.0
≤ 35.0
Colour APHA (Hazen)
≤ 150.0
—
Moisture %
—
≤ 15.0
Used as scale and corrosion inhibitor in circulating cool water system

Used as scale and corrosion inhibitor in medium and low pressure boiler

Used as scale and corrosion inhibitor in oil field water pipelines

Used as detergent for metal and nonmetal In light woven industry

Used as peroxide stabilizer and dye-fixing agent in dyeing industry

Used as chelating agent In non-cyanide electroplating

Used as water softener in soaps
Packing
Different HEDP Na4, different pack.
Packing
HEDP Na
4
liquid: 200L plastic drum,IBC(1000L).
HEDP Na4 powder: 25kg/bag.
All above can be packed as customers' requirements.
Storage
Ten months in room shady and dry place.
Safety Protection
Attention!Weak acidity, Avoid contact with eye and skin. Once contacted, flush with water.