HEDP (Hydroxyethylidene Diphosphonic Acid) is a kind of organic phosphonic acid.
As an experienced supplier, Shandong IRO Water Treatment always supply high-quality HEDP acid. And in fact, IRO also has own HEDP factory. Additionally, for more details to scroll down this page.
CAS No.
2809-21-4
Molecular Formula: C2H8O7P2
Molecular Weight: 206.03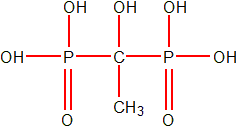 Hydroxyethylidene Diphosphonic Acid, HEDPA
HEDP, Hydroxyethylidene Diphosphonic Acid
HEDP (Hydroxyethylidene Diphosphonic Acid) is an odourless organic phosphorus chemical compound. For one thing, it is colourless to yellowish acidic liquid   Moreover, HEDP is an organic phosphonic acid corrosion inhibitor. HEDP acid is used in various industrial applications. Such as industrial water treatment corrosion inhibitor and detergents. It further shows good stability in presence of chlorine.  The same good as corrosion inhibition properties in presence of zinc and other phosphates.
Another key point, HEDP can dissolve the oxidized materials on these metals' surfaces. It shows excellent scale and corrosion inhibition effects under temperature 250℃. Hydroxyethylidene diphosphonic acid has good chemical stability at high pH value. For this reason, it hard to be hydrolyzed and decomposed under ordinary light and heat conditions. Its acid/alkali and chlorine oxidation tolerance are better than that of other organic phosphonic acids (salt).
The solid state of Hydroxyethylidene Diphosphonic Acid is crystal powder. Because of its high purity, HEDP is suitable for usage in winter and freezing districts. Solid state HEDP can be used as a cleaning agent in electronic fields and as additives in daily chemicals. (There are too many impurities in the liquid, so it can't be used for electronic cleaning and daily use.)
HEDP can chelate with Fe, Cu, and Zn ions to form stable chelating compounds. In other words, HEDP acid can react with metal ions in the water system to form a hexa-element chelating complex, with calcium ion in particular. Therefore, HEDP has good antiscale and visible threshold effects. When built together with other water treatment chemicals, HEDP shows good synergistic effects. Hydroxyethylidene diphosphonic acid can be also used as chelating agent in the textile industry.
Item
Index
Appearance
Clear, Colorless to pale yellow aqueous solution
White crystal powder
Active content (HEDP)%
58.0-62.0
≥90.0
Phosphorous acid (as PO33-)%
≤1.0
≤0.8
Phosphoric acid (as PO43- )%
≤0.6
≤0.5
Chloride (as Cl–) ppm
≤100.0
≤50.0
pH (1% solution)
≤2.0
≤2.0
Density (20℃)g/cm3
1.43-1.47
—
Fe,mg/L
≤10.0
≤5.0
Colour APHA (Hazen)
≤30.0
—
Ca Sequestration (mg CaCO3/g)
≤500.0
—
Used as scale and corrosion inhibitor in cooling water systems

Used as scale and corrosion inhibitor in industrial water treatment

Used as industrial detergentsUsed in Swimming pools

Used in metal surface treatment as corrosion inhibitor for steel

Used as stabilizer in H2O2 solutions

Used as sequestering agent in textile auxiliaries
Packing
Different HEDP state, different pack.
Packing
HEDP liquid: 200L plastic drum,IBC(1000L).
HEDP crystal powder: 25kg/bag.
All above can be packed as customers' requirements.
Storage
Ten months in room shady and dry place.
Safety Protection
Attention!HEDP is acidic. when operating it, you should pay attention to labour protection. You must keep HEDP away from skin, eyes and so on. If that happens unfortunately, immediately to use a lot of fresh water to flush.