HEDP 60 manufacturer and supplier, Shandong IRO Water Treatment Co., Ltd is from China-based. IR-HEDP 60 is made from acetic anhydride, phosphorus acid and phosphorus Trichloride. The phosphorus trichloride is converted to phosphorus acid within the reaction vessel and then reacts with the acetic anhydride. The raw materials we used are all quality standards of the Industry.
Shandong IRO Water Treatment Co., Ltd is the member of AWT. offers a wide range of high-performance wastewater treatment chemicals. The range of water treatment chemical supply includes HEDP 60, DETPMP and ATMP.
CAS No. 2809 21 4
Molecular Formula: C2-H8-O7-P2
Molecular Weight: 206.03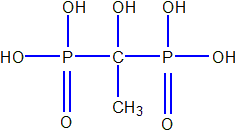 HEDP 60 liquid, IR-HEDP 60%
HEDP 60, Hydroxyethylidene Diphosphonic Acid 60%
HEDP 60% is an organic phosphonic acid with multifunctional properties. It provides control of calcium and other metal salts including iron and manganese by acting as a strong crystal modifying agent and threshold inhibitor. Like sequestration of hardness salts and heavy metals, deflocculation, threshold inhibition and hydrolytic stability as a single active ingredient. Because of the combination of these properties. HEDP 60 has a wide range of applications as a scale and corrosion inhibitor.
HEDP 60% is a sequestrant and excellent deposit control agent.
Based on its hydrolytic stability, superior anti-scaling and sequestering ability, HEDP acid 60% is known as a superior phosphonic acid chelating agent in the market. Owing to their anti-scaling and hydrolytic stability, These products are generally used in water treatment, soaps & detergents and sugar processing.
| Item | Index |
| --- | --- |
| Appearance | Colorless to Pale Yellow Liquid |
| Active Content | 60% |
| Acetic Acid Content | ≤ 1% |
| Crystallization Point | < 0°C |
| Chlorides (ppm) | ≤ 100 |
| Iron Content (ppm) | ≤ 35 |
| Phosphorous Acid (PO33-) | ≤ 2.5% |
| pH of 1% Solution | ≤ 2 |
| Specific Gravity (30°C) | 1.43-1.45 |
| Sequestration Value (CaCO3 mg/g) | ≥ 500 |
| Solubility | Soluble in Water, Phosphoric Acid, Ethylene Glycol, most Acids and Bases |
Used in low-pressure boiler

Used in industrial cooling water system

Used in radioactive agents

Used in the textile industry

Used as a strong chelating agent for metal ions

Used as metal and non-metallic cleaning agent
Packing
Different HEDP 60 State, Different Pack.
Packing
HEDP 60 liquid: 200L plastic drum,IBC(1000L).
All products can be packed as customers' requirements.
Storage
Ten months in room shady and dry place.
Safety Protection
Attention!HEDP 60  is acidic. when operating it, you should pay attention to labour protection. You must keep HEDP 60 away from skin, eyes and so on. If that happens unfortunately, immediately to use a lot of fresh water to flush.